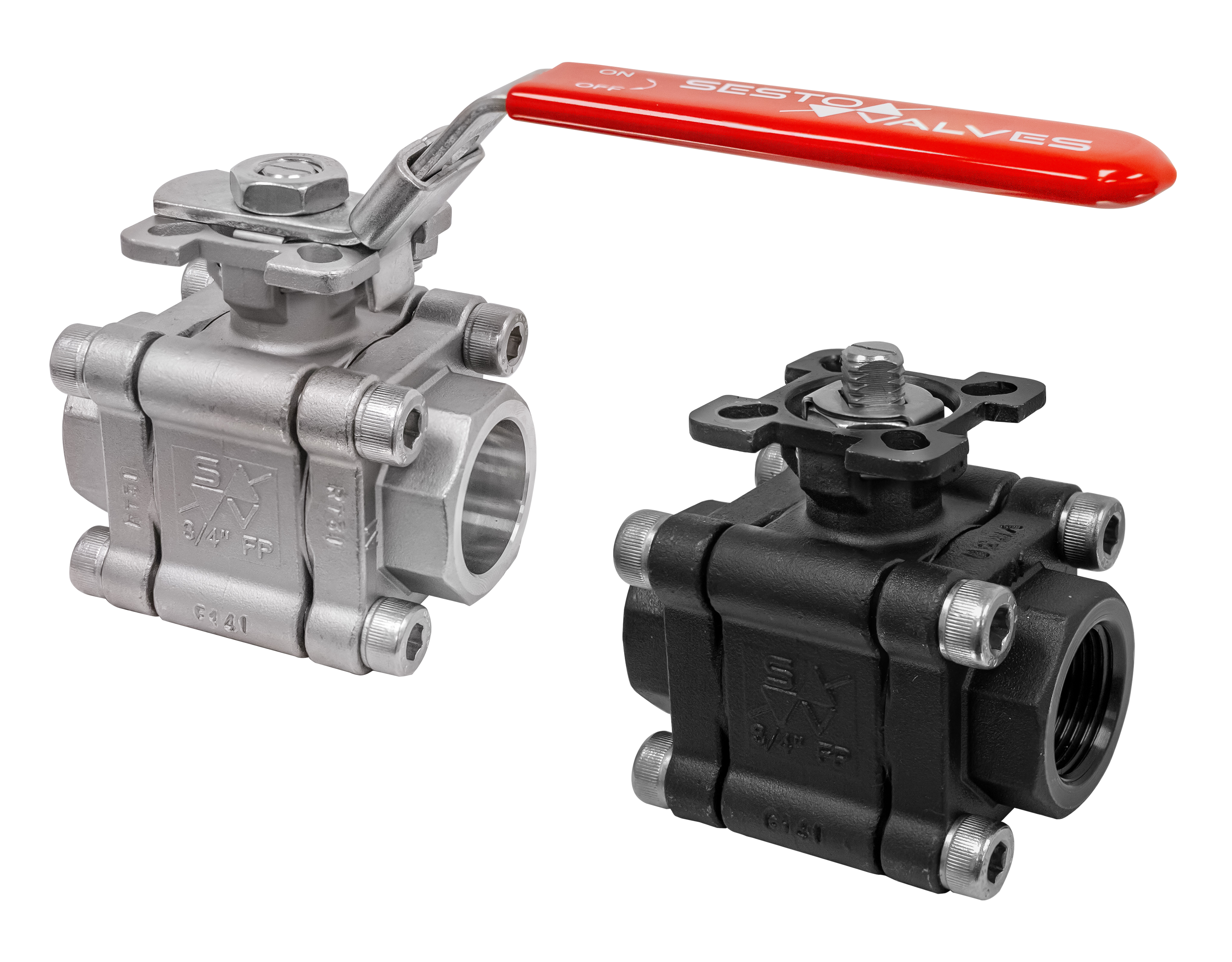 2000 WOG (Class 800)
Size Range 1/4" thru 2" Full Bore
ISO 5211 Direct Mount Pad
Body Wall Thickness ASME B16.34
End Connections: NPT, SW, BW, RF, Special
Fugitive Emissions ISO 15848
Firesafe Tested API 607
Anti-Static Device and Live-Loaded Packing
Center Body Swing-Out Design
Blowout Proof, Low Torque Guided Stem Design
Wide Range of Soft and Metal Seated Options
Manual, Electric, Pneumatic Operators
Globally Certified and Approved
Certifications & Compliance
Sesto Valves are designed and manufactured to internationally recognized standards including but not limited to the following:
Fire Testing: API 607 Certified
Testing: API 598, API 6D, ISO 15848, B56361, ISO 5208
Design: ANSI B16.34, ANSI B16.5, ANSI B16.10, NACE MR0175
Markings: MSS-SP-25, PED, NACE
Certifications: API 607, SIL, NACE, PED, ISO 15848, API 608
Body: ASTM A216 GR WCB, ASTM A351 CF8M
Ball: ASTM A351 CF8M
Stem: ASTM A276-316, 17-4PH
Seat: TFM, CTFM, PTFE, RTFE, CTFE, 50/50, UHMPWE, PolyFIL, MTFE, Peek, PCTFE, Delrin, Specials including Metal
Bolts: AISI 304
Versatility &
 

Reliability
The Sesto Valves M32 Series direct mount 3-pc floating ball valve design starts with a high quality investment cast body, designed and tested in compliance with ASME B16.34 standards.  Precision machined surfaces and tighter manufacturing tolerances allow for precise assembly and fitting of body components and seals.  Because of reduced dimensional variations, seats can be designed for minimal compression.  This results in lower, more consistent torques and longer seat life.  The 3-pc swing-out design and array of seat options allow for flexibility to meet a range of operational requirements in one simple, reliable design.  Every valve is factory tested and serialized for quality control and traceability.
Firesafe 3-Piece Direct Mount 2000 WOG Design
Packing arrangement is Fire-Safe for critical applications and Fugitive Emissions ISO 15848 certified.

Design
The Sesto Valves 3-pc design is compliant to ANSI Class 800 (2000 WOG) as per ASME B16.34 standards. In fact, the center body wall thickness is engineered with enough safety factor to exceed Class 900 rated pressures. Body gaskets are 50% thicker than industry standard to ensure better body sealing. Non-encapsulated seats with true swing-out body design allow for easy maintenance.
Precision
Premium investment cast body and end caps with chemical composition and hardness controlled to meet NACE standards. Sealing areas are machined within +/- 0.002" for precise assembly and less dimensional variation, allowing for lower seat compression ratios. As a result, seats last longer and torques are lower and more consistent.
Reliable
Several design features contribute to high reliability and long-life performance. Oversized stem and body wall thicknesses provide a factor of safety at higher pressures. Lower seat compression and reduced torques result in extended seat life. Precision machined sealing surfaces and thicker body seals are less likely to leak over time.
Certified
The Sesto Valves 3-pc design is ANSI B16.34/B16.5/B16.10 and NACE MR0175 compliant, API 607 Fire-Tested and Certified. Valve acceptance testing is performed per API 598 (ISO 5208 upon request) and stem packing tested to ISO 15848 per customer requirements. Pressure Equipment Directive (PED) certification is available for the European market.